CUSTOM-BUILT (kus'tum-bilt'), adj. built to order, not ready-made.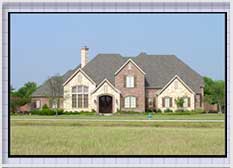 Specializing in the construction of custom homes on acreage sites for a competitive price, Majestic Country Estates is the premier builder in North Texas.
Homes built with care and precision, utilizing quality materials, employing superior craftsmen, making informed choices to exhibit inspired designs and quality construction -- attributes common to all Majestic Country Estates Custom Builders' projects.
Design flexibility and a variety of locations on which to build provide North Texas home buyers with numerous options to establish their own personal "dream home".
We'll take care of everything from helping with home-site selection and all pertinent concerns, until you are comfortably moved in. We'll even help market your existing home.
Review samples from our portfolio in our gallery.
NEW Through our Renovation services we can transform your house into the dream home you'll always want to come home to! Contact us for more information.